On the day the Tories start their election campaign
The Guardian
has some photographs taken by Don McPhee in his 33 years in their Manchester office.
Battle of Orgreave
The summer of 1984 and the Miners Strike witnessed some of its most violent scenes as battle lines were drawn between the police and pickets at the Orgreave coking plant near Sheffield, South Yorkshire.
Making ends meet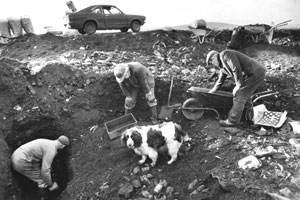 Striking miners pick coal from pit waste sites during the 1984 strike.